Injury to the uterus or cervix, potentially damaging intestines, bladder, and nearby blood vessels, may occur.1 Other consequences include hemorrhage, infection, and in some cases, even death of the mother.2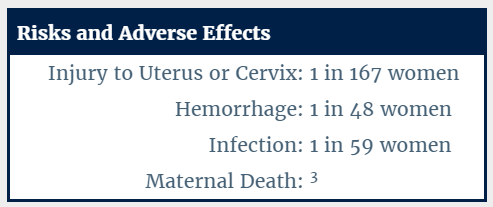 An "incomplete abortion" occurs when parts of the aborted baby are left in the uterus following the abortion (approximately 1 out of 63 Suction D&C abortions is incomplete).4
Extreme pain, nausea, excessive bleeding, and even death may result from an incomplete D&C abortion. A woman may need surgery to remove the fetal body parts as well as blood transfusions and antibiotics.
Long-term, D&C abortions have caused complications in future pregnancies. One such complication that it can make it difficult to carry a future pregnancy to term. D&C abortions have been known to cause damage to the uterus or cervix, which can result in very premature births with the next pregnancies.5 The subsequent scarring to the uterus6 may increase the risk of uterine rupture during future pregnancy, which may result in death of the baby and even the mother.7,8. In addition to an increased risk of preterm birth, damage to the lining of the uterus can also cause additional problems for the woman during future deliveries, including significantly higher risk of hemorrhaging.9
There are studies that indicate the risk of depression, anxiety, and suicide is greater for a woman who aborts an unwanted pregnancy than it is for a woman who carries an unwanted pregnancy to term.10
American Society for Reproductive Medicine (ASRM). "Fact Sheet: Dilation and Curettage." 2014. <dilation_and_curettage_factsheet.pdf>.
Bloigu A, et al. "Immediate Complications after Medical Compared With Surgical Termination of Pregnancy." Obstetrics & Gynecology, Vol 114, No. 4, October, 2009. <http://www.ncbi.nlm.nih.gov/pubmed/19888037>.
Alexander, Greg R. "Preterm Birth: Causes, Consequences, and Prevention." Institute of Medicine (US) Committee on Understanding Premature Birth and Assuring Healthy Outcomes Outcomes; Behrman RE, Butler AS, editors. Washington (DC): National Academies Press, 2007. <http://www.ncbi.nlm.nih.gov/books/NBK11386/>.
ASRM. <https://www.asrm.org/FACTSHEET_Dilation_and_Curettage>.
Barnhart, Kurt and Loraine K. Endres. "Spontaneous Second Trimester Uterine Rupture After Second Trimester Abortion." Vol. 96, Issue 2, Nov. 2000, pp. 806-808.
Alexander, Greg R. <http://www.ncbi.nlm.nih.gov/books/NBK11386/>.
Jiang, Xiaozhang, et al. "Does D&C Affect Future Pregnancy Outcomes."The Ochsner Journal, 7(4), Winter, 2007, pp. 173–176. <http://www.ncbi.nlm.nih.gov/pmc/articles/PMC3096409/>.
Fergusson, David M with Joseph M. Boden and L. John Harwood. "Does abortion reduce the mental health risks of unwanted or unintended pregnancy? A re-appraisal of the evidence." Australian & New Zealand Journal of Psychiatry, Sept. 2013, Vol. 47, No. 9, pp. 819-827. <http://www.ncbi.nlm.nih.gov/pubmed/23553240>.